Smartphones. We can't live without them.
On one hand, they can be incredibly useful tools that help you be more productive, stay connected and access information at the touch of a finger. On the other hand, they can be a total time suck from our studies (hello Snapchat, Instagram and Facebook).
According to a Baylor University study, the average college student spends about eight to ten hours per day on their smartphone(!). The simple fact is, you can choose to spend the time wisely, or not. This semester, resolve to make smarter choices with your trusty sidekick.
Here are eight apps that I use that will make your life easier. Download these apps. Your grades will thank you for it.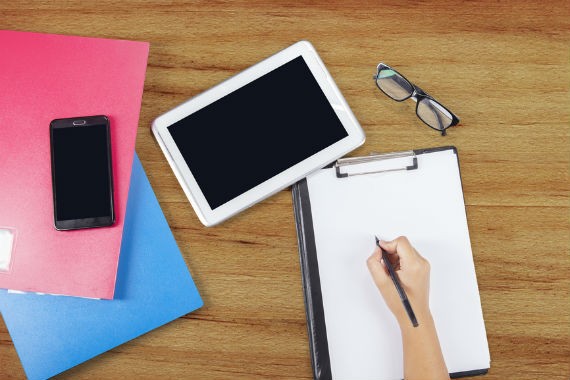 As far as brain training apps go, this one is the gold standard. Named the "Best iPhone App of 2014" by iTunes, this beautifully designed app runs users through 25 mini games that train your memory, focus, reading comprehension, and even math skills while still being fun (I swear it's fun!). The app encourages users to complete three brain challenges at least four times per week. And don't worry, it'll send you a friendly pop-up reminder so you don't forget. Apart from the mini games, the graphics are definitely worth writing home about. Its sleek design makes you want to keep playing, making it a great app to use when you're struggling to turn your brain on in the morning.
Cost: FREE
Available on the App Store and Google Play
Microsoft Word is so 2010. If you're a college student and you're not using Google Drive to save your most important papers and documents, you're doing it wrong. With Google Drive, you'll never be anywhere without the documents you need again. By saving everything in the cloud, you'll be able to access your most important files and documents from your phone, tablet and desktop. Not to mention, you can save and share documents, folders, and files with others on the Drive. This will be a huge time saver when it comes to collaborating on group projects. Have a huge paper due next week? Start drafting it on your phone while you're waiting for the bus and pick up where you left off when you get home to your computer. Seamless.
Cost: FREE
Available on desktop, the App Store and Google Play
Students are busy. No one understands this better than the folks over at HelpHub. If you're jumping from school to work to extracurricular activities, you probably don't have time to schedule a tutoring session to help you pass science. HelpHub's new iOS app is designed for the busy student to connect with a tutor from wherever they are. With the app, you can search for a subject, find a tutor, and chat with them right from your phone. The file sharing feature also allows you to share screenshots and photos of your homework to get the help you need. You can also take it a step further and hold one-on-one video sessions with a tutor right within the app. Talk about meeting the modern student's needs.
Cost: FREE
Available on desktop and the App Store.
Most university curriculums require students to complete a foreign language credit. If you're lucky, you might even walk away from language classes with enough knowledge to hold a conversation. (Heck, I took five years of French but can't remember anything beyond Bonjour and Où sont les toilettes s'il vous plaît?) Duolingo makes learning a foreign language fun, and dare I say, easy! The app has received a lot of attention due to its crowdsourced text translation model which lets users translate real documents as part of the the language learning process. Currently, the app supports classes in Spanish, French, German, Portuguese, Dutch, Irish, Danish and Swedish. The Internet is great.
Cost: FREE
Available on desktop, the App Store, Google Play and Windows Store.
You're a student, which means you're in a constant battle between what you want (pizza and Red Bull) and what you should have (salad and coconut water). By now, you might have even had a run-in with the Freshman 15. With late night study sessions, free cafeteria pizza, and no time to workout, it can be hard to maintain a healthy lifestyle. MyFitnessPal takes all the guesswork out of the equation and makes it easy to track your food and water intake. You can track all the food (and coffee) you consume, measure your fitness goals, and even calculate how many calories you're burning each day. Although it won't actually run a few miles for you, the app will give you a healthy reality check and help you manage your habits.
Cost: FREE
Available on the App Store, Google Play, and Windows Store.  
This app is every student's (or aspiring student's) dream. Much like iTunes is to music, iTunes U is to university coursework. It gives you access to courses from some of the world's top universities at no cost! Ever wonder what it'd be like to take a Philosophy course on Death from Yale University? Well with iTunes U, you can. In fact, you can subscribe to full courses in subjects ranging from Algebra to Zoology at institutions such as Stanford, MIT, Oxford, MoMA, and many more. It even might host the courses you're taking right now, which is a great way to stay on top of your class (and could even help you get ahead!). The app displays everything in an easy-to-navigate binder that contains video and standalone note documents. It even links to books that you can download in their partner iBooks app (or you could always download an e-version on Amazon).
Cost: FREE
Available on the App Store.
RefME is idiot-proof referencing. This free app let's you create citations and bibliographies by simply scanning the book's barcode. In any style you'd like (or, more accurately, what your professor would like). You pick from Chicago, APA, MLA, whatever. It's intuitive, beautiful and seamless. Start saving hours on your references, like, now.
Cost: FREE
Available on the App Store, Google Play and desktop.
Sticky Notes are pretty and all, but they're also easy to lose. In the massive sea of note-taking apps available, Evernote rises above the rest when it comes to interface, usability, and accessibility. You can literally record every note, thought, or idea in this platform and have access to it through any device. Keep yourself organized by creating different notebooks for different subjects and projects. You can even collaborate on notes with other Evernote users. Although notes are great, you can also maximize them by using StudyBlue, an app that turns your Evernote notes into digital flash cards so you'll never leave home without them.
Cost: FREE
Available on the App Store, Google Play, and Windows Store.
What's your go-to app that makes your student life easier? Let SLNers know below!