To continue our new series, Students with Stories, we sit down with quite the achiever. Jivetesh Singh Chhatwal (Jivy) of Memorial University in Newfoundland is an esteemed Schulic Scholarship winner, was named the City of St. John's Youth of the Year and does some brilliant youth empowerment work with Radhoc. Here's Jivy's story.
Tell us about yourself and what you're up to at Memorial University.
My full name is Jivetesh Singh Chhatwal, but I like to be called by Jivy. I might be considered a 1.5 generation immigrant to Canada, according to Wikipedia, as I immigrated to Canada when I was 15. I moved here from my hometown in Punjab, India. Currently, I'm in my 3rd year at Memorial University attempting to do an honours in Biochemistry and a minor in Psychology.
In your Twitter bio, you say you'll dance to any music. What's that one song that will keep you coming back to the dance floor?

"Like I Love You" by Justin Timberlake.
In 2012, you were named the City of St. John's Youth of the Year. Tell us about that.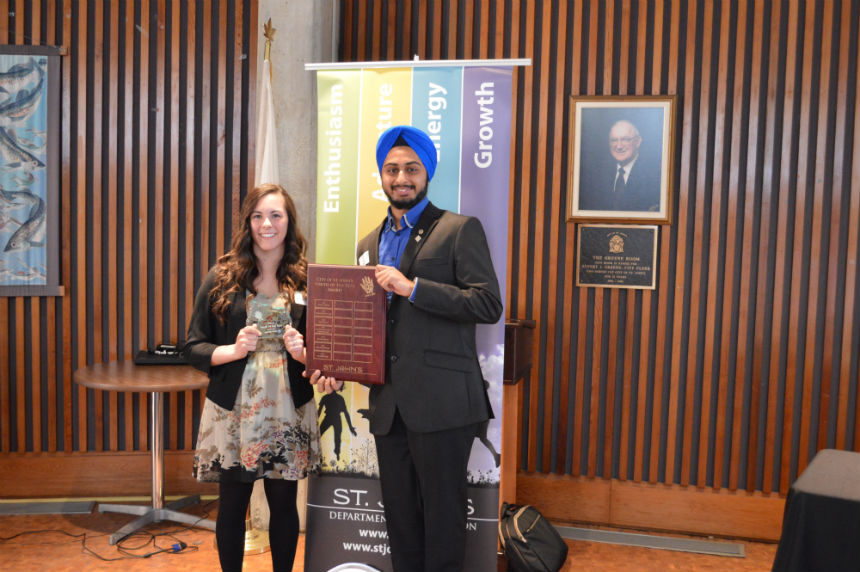 I actually have an interesting story to tell about this. I was nominated by one of the organizations I volunteered with at the time called Association for New Canadians (ANC). I never received any news that I had been selected as the award winner until my name was announced at the award ceremony, which is not typically how this is done. I had to improvise an acceptance speech. The suspense heightened the whole experience. As a summary of my community work was being read at the ceremony, including my volunteer work with Association for New Canadians as a camp counsellor, program adviser and homework tutor for kids, my experience with my dance troupe and success with my company in Junior Achievement Company Program, I appreciated that people around me had been taking notice.
In that same year, you won a prestigious Schulich Leadership Scholarship (only 40 awarded annually), valued at $60,000. What tips do you have for students getting scholarships?
Receiving the Schulich scholarship for my undergraduate studies at Memorial has been one of the most gratifying moments of my life. For students getting scholarships, I don't think they need many tips except to spend their scholarship funds wisely and express sincere gratitude to their donors. However, for students applying for scholarships, here are my two cents:
1. Apply, apply, apply. If you think you are eligible, then apply! Never hesitate to demonstrate why you deserve to be awarded a scholarship which translates to an opportunity to learn and grow. School notice boards and scholarship bank websites are a great place to start when looking for scholarships.
2. Research. Just like getting a job, being awarded a scholarship requires research into what each scholarship is looking for. Do your research, look at the donor's motto or the scholarship criteria and follow instructions. Reflect on how your experiences can help you meet this criteria.
3. Quality over quantity. Your work and volunteer experience should be meaningful to you. This is not to discourage you from going out and trying different things, but stacking hours doesn't matter at the end of day. What matters is if you can put a finger on the values and skills you gained from each experience. Thus, regular reflection and recording can be critical when describing experiences. 

How did this scholarship help you out?
In addition to the peace of mind and an escape from the student loans, the Schulich Leader Scholarship has provided me increased room for failing forward when trying out new opportunities. I believe that with the support of this scholarship, I have been able to devote time to voluntary commitments that otherwise would have compromised my academic performance. The scholarship has also connected me to ambitious individuals across the country who continuously inspire and motivate me to find new avenues for learning and contributing.
All this being said, I applaud students who manage to live away from their families (especially international students), work and pay for their own tuition whilst maintaining high academic performance.
You're doing some pretty awesome stuff with Radhoc and youth leadership. Tell us about your work there.
I was a "Champion" (aka delegate) at the 2012 Radhoc Social Justice Youth Leadership Conference for High School students. Soon after that, I was recruited to the Radhoc student group at Memorial, which has been organizing the conference each year since its inception in 2008 when a coalition of social justice clubs and organizations decided to pool their resources and invite high school students to take action on social justice challenges. I continue to work with Radhoc to fundraise, co-organize and facilitate free workshops and activities on the topics of leadership, social justice and innovation, critical thinking and international aid.
You seem to always be doing something/many things. What drives you?
I am driven by the curiosity for learning. Through my contributions, I want to empower individuals so that they realize their potential to the fullest. In the process, I am curious and eager to realize my own potential especially while living in a free and democratic country like ours. I am driven by the clarity and conviction that I am able to help peers achieve in matters that are easy to ignore in our everyday lives. I am also driven by the examples set by people like Malala Yousafzai and Kailash Satyarthi who devote their lives to equal rights and justice of the masses much like the values I learn from my religion and culture.

You came from India with your parents when you were younger, what's life like as a student in Canada?
Life as a student is Canada has been very rewarding for me. I feel like I have consistently been provided opportunities to build my capacity and skills to become a well-rounded individual with high self-efficacy. If travel is said to help broaden perspectives, I can only begin to appreciate how much immigration has helped me acknowledge my privileges.

What advice do you have for fellow students?
Take the time to tease out your passion from your interests and dislikes and then, follow your passion wholeheartedly! Don't be afraid to dabble in different areas of study. Creativity thrives on inter-disciplinary learning. Get involved in activities only where you can learn something and/or if you are needed while prioritizing academics. Call your parents often. If possible, count them as one of your friendly mentors. Finally, try your best to maintain healthy relationships with everyone around.
RAPID FIRE QUESTIONS:
Favourite quote?
"Live as if you were to die tomorrow. Learn as if you were to live forever." —Mahatma Gandhi
Best place for a first date?
If I knew how to ice skate, then ice skating. Otherwise a quiet and cozy cafe would do.
Where would you visit if you had the chance right now?

The Himalayas.
Next mayor of Toronto will be?
Olivia Chow. (Disclaimer: I am a non-Torontonion who hasn't been following the race closely)
ED. Note: Do you know a student with a great story? They don't have to cure cancer, but that's a good start. Send us an email with their contact info at editor@studentlifenetwork.com.
Photo courtesy Andrew Deroche