We all know that feeling. The sweaty palms, the breathlessness, the tears. Maybe it comes from school. Or work. Or maybe you're having an existential crisis. Whoever you are, stress is universal.
It just particularly sucks for students.
We're in the big leagues now. When our metaphorical mind boat hits that iceberg of school work, we need to have an arsenal of ways to combat the stress. Take a breath. Consider investing in a yoga mat, and save the heartfelt Celine Dion songs for another day.
Step 1: Make a Plan. Seriously this time.
In my first week of university I was given a syllabus for every class. I remember experiencing the crushing realization that the next four years of my life are going to be consumed with an obscene number of weekly readings and assignments. The infamous syllabus tells you what you have to do but not how you're going to do it.
Making a plan helped me overcome the anxiety because I could see that if I followed it closely I would succeed! It can't be a vague outline of a plan in your head that reads: "Maybe I'll start with math… or science… or a nap." It has to be an honest to goodness guidebook for managing your time. Student stress generally comes from work overload, but we all have different worries to overcome. Your plan can include everything from a weekly exercise routine to how you're going to limit distractions (Twitter, YouTube, World of Warcraft, etc.). Break out the coloured pens and make a schedule to survive with your sanity intact.
Step 2: Get Organized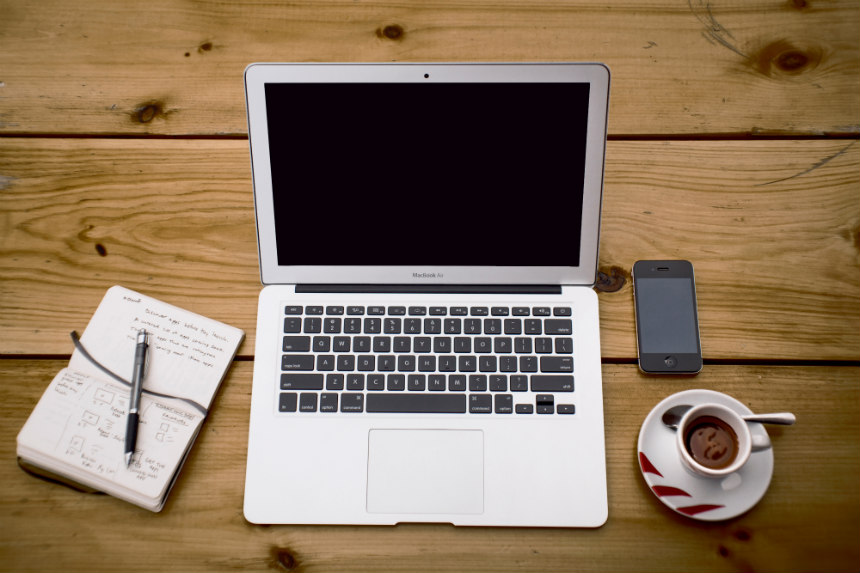 Book bag. Bedroom. Desk. If these spaces are neat and organized your mind will be too. Mess stress is a real thing. Google it. Clutter overwhelms you with stimuli making it hard to focus on the things that really matter. Knowing what kind of learner you are can also help you decide what space you need for studying. Visual learners will find it particularly hard to study with visual distractions, while auditory learners need silence to study. Kinetic learners will find it difficult to focus if there are tactile distractions.
"I'll sit down to write a paper on the aesthetic philosophy of George Santayana. Fifteen minutes later I find myself making chains out of the paper clips on my desk."
Observing the ways you learn best will help you personalize your workspace and develop a system for effective homeworking. I'll sit down to write a paper on the aesthetic philosophy of George Santayana and fifteen minutes later I find myself making chains out of the paper clips on my desk. Preempt the inevitable distractions messes cause. You'll actually be saving yourself time.
Step 3: Network
Students have to stick together. We're stronger in numbers. As we learned from the Titanic, if Rose had just moved over on the raft she could have saved Jack and had the extra body heat (see MythBusters Season 13 Episode 1). My point (and I do have one) is that when you're having anxiety about say, a deadline for a paper you haven't started, talking to people helps. Plenty of other students are going through the same thing. Talk to your friends, classmates and teachers. Swap stories and strategies. We can help each other. You don't have to go it alone, Rose.
The leaves dance along the sidewalk on the colourful autumn day. The sun warms your face and as you breathe in. The air is refreshing. Your neighbours wave you over and you stop to chat. You walk home enjoying the sights and sounds of this beautiful afternoon.
After a homework marathon in front of the computer it feels good to take a break and go outside before your eyes start to cross. Research shows that significant increases in mood happen after five minutes spent walking outside. I find time spent outside gives me perspective that there's more out there than school. Give yourself some time every day to experience the world beyond your computer.
Step 5: Reward Yourself
A week as a student is a delightful experience. Truly. On one hand you desperately want the week to be over. On the other hand, the week is not long enough to finish everything you need to do. I suggest planning something every week to look forward to. Now I know what you're thinking. If you had time to do what you wanted to do you wouldn't be stressed. Right? Actually, planning for something enjoyable is a great motivator and helps you avoid the temptation to procrastinate. It is also essential to keeping your morale up. Work as hard as you can through the week. Relax. Repeat. (Seriously, for a quick reward, check out this Calm.com website and try it for 2 minutes. It's awesome.)
Remember to stay positive, SNLers!
More tips and tricks to come in our next edition. If you have student-proven tips on reducing stress, you know what to do in the comments!
Lead image courtesy by Caleb George, interior image by Alejandro Escamilla