Posted on
December 13, 2012
by
Chris Baxter
and currently
One comment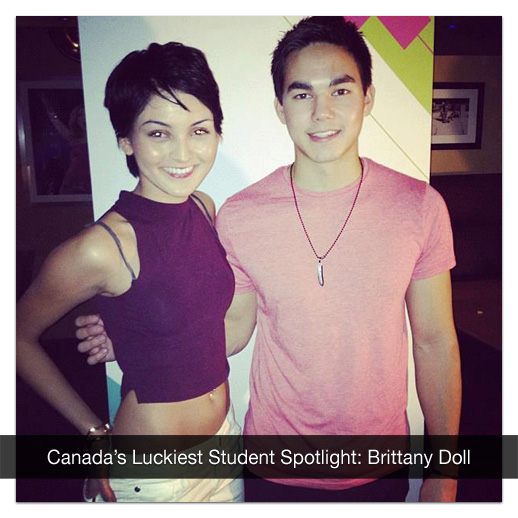 Brittany Doll has been really active throughout the Canada's Luckiest Student contest. Already finishing as a close finalist with her video submission in the Rihanna 777 Contest, she also won tickets for herself and 4 friends to Much Music's The Big Jingle concert featuring Shawn Desman, Carly Rae Jepsen, Simple Plan, Austin Mahone, Bridgit Mendler, Cody Simpson, Sky Blu and The Wanted.
SLN: Can you let me know a bit about yourself?
BD: I'm Brittany Doll. I'm 21 and I go to Ryerson University. I'm kind of like a first year in Business Management, but I've already been at Ryerson for two years I just transferred programs. So I'm kind of like first or second year again, majoring in Sports Marketing, minoring in Law. So I have a few years to go.
SLN: That sounds cool! What are you looking to do – Law eventually or is sports more the direction that you are looking into?
BD: Well I know what I want my career to be. I want to work for the International Olympic Committee or I'd like to work for Team Canada or Team USA.
SLN: Where are you from originally?
BD: I was born in Cornwall – near Ottawa and Montreal – but I spent most of my time growing up in upper New York State. So I kind of travel back and forth.
SLN: How do you like Ryerson?
BD: I love it. This is my third year now and even though it's right downtown in the core, it still feels really homey. Now that I'm in management, which has its own kind of separate building, I feel like I've gotten to really know the management people, I've joined groups, and it's just a community and it's definitely more for me and where I should have been to begin with.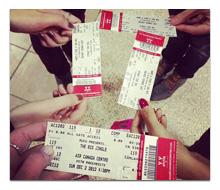 SLN: That's great I'm glad to hear it. So you just won tickets to The Big Jingle, how was it?
BD: It was amazing. I had so much fun!
SLN: Who did you take with you?
BD: I took my old roommate, one of my friends from Cornwall, and then I took another one of my friends from Cornwall and he brought his friend. We collectively kind of all know each other because we go to school together.
SLN: Awesome, and everyone enjoyed it?
BD: Oh my gosh. We couldn't stop dancing, haha. We were just standing on our feet the entire time.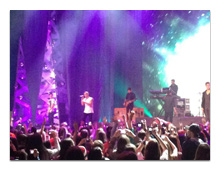 SLN: Nice! Of the artists that were there, who did you enjoy the most?
BD: I probably liked Sky Blu the most because he played songs like "Sexy and I Know It" and "Shots" and then it was so funny, because he premiered this song with the Cataracts called "Alcohol", and most of the people there were young — 13 or 14 year olds with their parents — and as soon as we heard this song we went crazy. Haha I really enjoyed Sky Blu. Even though they both weren't there, it was still like LMFAO.
SLN: How did you hear about Canada's Luckiest Student?
BD: Well I'm like a contest junkie. My roommate had actually entered it a couple of days before me and then I entered the big contest for the $20,000 and all that. And then, a few weeks ago, I don't know if you judged it but there was the Rihanna contest that you had and I submitted an entry into that. I was so devastated that I didn't win, but it's OK because I ended up going still!
SLN: I saw that! How did you manage to get tickets?
BD: I'm so lucky. I won tickets the day of the concert. I could not believe it.
SLN: That's sweet I'm glad it all worked out for you! Did you get the CD yet from Universal?
BD: Yes I did get it, I meant to tell you that it came! And I see you guys just launched a new contest.
SLN: Yeah! We just launched our next contest. Billy Talent's new tour across the country – meet and greet, tickets to the show and all of that. It's crazy around here right now.
BD: Well it seems like you have an awesome job, I'm not going to lie.
SLN: Yeah it's a lot of fun, we are really lucky! Ok let me ask you some other contest questions..what is your favourite prize that is offered for the main CLS contest?
BD: I think that the two week trip to Europe is pretty awesome. I would love to spend two weeks travelling!
SLN: I love that prize too. What place is your favourite?
BD: I would like to go to France because I have some friends there and I always said I would go.
SLN: What other prizes should we go after for students?
BD: Right now you guys have such a good variety already! I can't think of anything right now.
SLN: No worries, I guess we are hitting all of the bases! Well I think that's it for my questions. This was fun, thank you so much. Good luck with your exams!
—————————————————
Check back soon for another student spotlight interview!
If you know a Canadian student who deserves some spotlight shined on them, or would like some more information on Canada's Luckiest Student, please contact me at chris.baxter@studentlifenetwork.com.