Posted on
December 6, 2012
by
Chris Baxter
and currently
no comments yet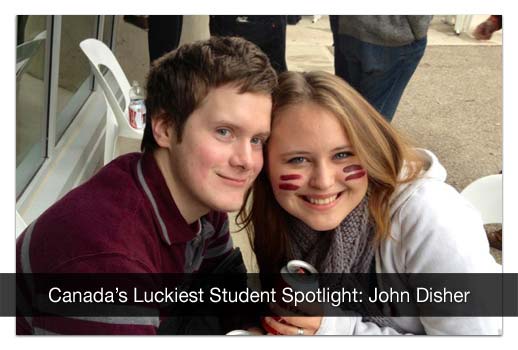 Our latest Canada's Luckiest Student flash contest winner was John Disher from McMaster University. He was randomly selected as the winner of two passes to see Chase and Status perform at The Guvernment in Toronto thanks to our friends at Electronic Nation Canada.
SLN: Hey John, how was the show? 
JD: The show was amazing! I'm usually more into drum and bass, and unfortunately Chase and Status have faded away from that scene a bit, but they're always a great show.
SLN: Right on, who did you bring with you?
JD: The original plan was to bring my girlfriend with me, but unfortunately she wasn't able to come with me. It worked out though, because I was able to bring a close friend of mine who I hadn't seen in almost a year, and she's one of the people who was with me the first time I saw Chase and Status a few years ago.
SLN: How did you hear about the contest?
JD: I heard about the contest through my girlfriend, and I had seen a lot of the posts about Canada's Luckiest Student around Facebook so I decided to check it out.
SLN: Awesome, what was your reason for signing up?
JD: There are some great opportunities to win prizes, especially with that looming jackpot, and as a student every little bit helps. Especially if it happens to be a Chase and Status show that falls on the one weekend I can manage to take off before exams hit in full force.
SLN: What would winning Canada's Luckiest Student mean for you? What would it allow you to do?
JD: Realistically, what it would mean to me would be strictly financial. It would mean that I would have some of my time at school paid off, which would be fantastic, and would give me just that much more of a head start on things to come – which is just going to be more school for the time being. But hey, less to pay off would be a huge help to get the ball rolling.
SLN: For sure! What is your favourite prize being offered in the main contest?
JD: The $20,000 would really go a long way, but the trip to Europe would be nice as well. Plus, that way I could justify going to Europe. Wouldn't want to put those tickets to waste…
SLN: Ha ha definitely not. How about other concerts – if we were to give you tickets to any concert of your choice, what would it be?
JD: Personally, I would probably have to go with Bass Week that usually comes around in March. Or even landing tickets to the World Electronic Music Festival or another of the summer festivals local to Ontario.
SLN: What other things would you like to see in the CLS contest?
JD: I've been pretty surprised at how the bases have been covered. Everything from phones, televisions, game systems, trips, tickets to concerts, I don't even know what I would add to the list. Just more of the same!
SLN: Glad to hear that we're doing well! We are hoping to keep things moving and hopefully hit some other areas as well. Thanks a bunch for answering those questions and I'm glad you had a good time at C+S!
—————————————————
Check back soon for another student spotlight interview!
If you know a Canadian student who deserves some spotlight shined on them, or would like some more information on Canada's Luckiest Student, please contact me at chris.baxter@studentlifenetwork.com.