Posted on
November 28, 2012
by
Chris Baxter
and currently
no comments yet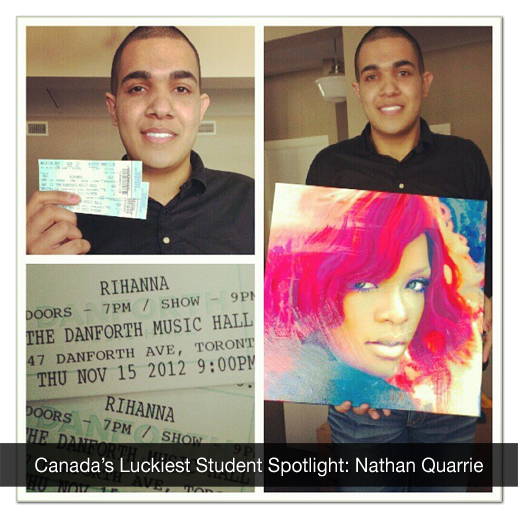 Back at it with another spotlight article! This time I caught up with the extremely talented Nathan Quarrie, a second year student at Durham College, who won our Rihanna 777 contest for a pair of tickets to her super exclusive concert in Toronto.
SLN: Could you give us a little introduction of yourself?
NQ: Sure, my name is Nathan Quarrie. I go to Durham College in Oshawa, Ontario. Right now I am studying Music Business Management, it's a three year program. I'm not too sure exactly what I want to do after I graduate, but hopefully something with artist management. Or maybe working for a record label.
SLN: That sounds great! Obviously you are an artist, do you take any classes in that as well? 
NQ: I don't actually take any art classes at the moment. I have taken some in the past in high school, but I really wanted to pursue a career in music. I thought about studying art but ultimately I decided that music was my passion.
SLN: Right on, how has your experience at Durham been so far?
NQ: It's been incredible. I have some of the best professors that I've ever worked with. A lot of my professors have worked in the industry before and they have a lot of experience working with even some mainstream artists like Rihanna and Drake. So it's a really great learning environment, learning from people who are very professional and have a lot of experience working in the industry.
SLN: How did you hear about Canada's Luckiest Student?
NQ: It was a post on Facebook. I believe I saw someone shared a post on my newsfeed. A few of my friends entered as well so I decided that I might as well submit my artwork.
SLN: Was the Rihanna contest the main thing that got you involved?
NQ: Yeah that's what introduced me to Student Life Network.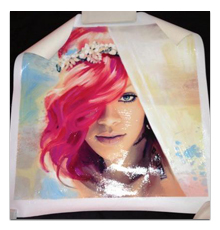 SLN: Well obviously your painting was amazing, how long did it take you?
NQ: About 2 weeks.
SLN: Wow, what's your method?
NQ: I bought the canvas online, and it's printed on a mixture of acrylic and oils. Essentially it's a simple process – I find a high quality version of whatever picture I want to paint and I use a projector to shine it onto a canvas and then I use that to trace and draw along with the original photo, instead of just painting it entirely by hand. It makes it much more accurate.
SLN: Definitely, it was so good we couldn't believe it! Did you have any luck giving the painting that you brought by our office to Rihanna that night?
NQ: I didn't actually. I called the venue before the concert and unfortunately they said there were no gifts allowed, so I decided to just leave it in my car.
SLN: Oh that's too bad, but probably a safe bet. What are you going to do with it?
NQ: I have it hanging up in my bedroom, so maybe at her next concert I'll try to give it to her. I'm going to be seeing her again in March.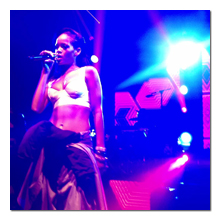 SLN: Nice! That will be how many concerts?
NQ: That will be my fourth concert.
SLN: That's amazing, you're a true fan. How was the show this time?
NQ: It was incredible. It was a change of pace from what she's done in the past because it was a much smaller venue. It was a much more intimate show so it was a nice surprise to see her doing a much smaller scale concert and interacting with the fans.
SLN: Yeah, you got to steal a little kiss there! (see video below)
NQ: Yeah! Haha..
SLN: That was awesome. Glad you enjoyed it! Now back to the Canada's Luckiest Student contest – what's your favourite prize from the main contest?
NQ: I'm really excited about the new Taylor Swift prize that I saw on your Facebook to go meet her in Vancouver. I definitely entered that.
SLN: Yeah a lot of people are pretty pumped about that! If you could think of a really cool prize to add to the contest, what would that be?
NQ: I'm not sure if you would be able to do this, but I know a lot of people who are interested in working for a major record label, so I think it would be really interesting if maybe Student Life Network could set up an interview with a major label like Universal Music Canada and maybe help get a student through the door and give them an opportunity to work with a major label like that because it is so difficult to land a job like that.
SLN: I like that idea a lot, maybe something like an internship contest?
NQ: Yeah exactly!
SLN: Very cool. We're also talking, since we are moving to a new office soon, about maybe having a contest for students to design stuff for the new space. Hopefully we can get that going and get you to put something together for us. It would be great to have one of your pieces hanging on our walls!
NQ: For sure I would love to.
SLN: Thanks again for being part of the contest, we were really lucky to find you! I'm glad you enjoyed yourself at the show.
NQ: Thank you. I really enjoyed the concert. It was an amazing experience.
Check out Nathan's artwork and some more photos from the concert:
—————————————————
Check back soon for another student spotlight interview!
If you know a Canadian student who deserves some spotlight shined on them, or would like some more information on Canada's Luckiest Student, please contact me at chris.baxter@studentlifenetwork.com.