Posted on
November 16, 2012
by
Chris Baxter
and currently
no comments yet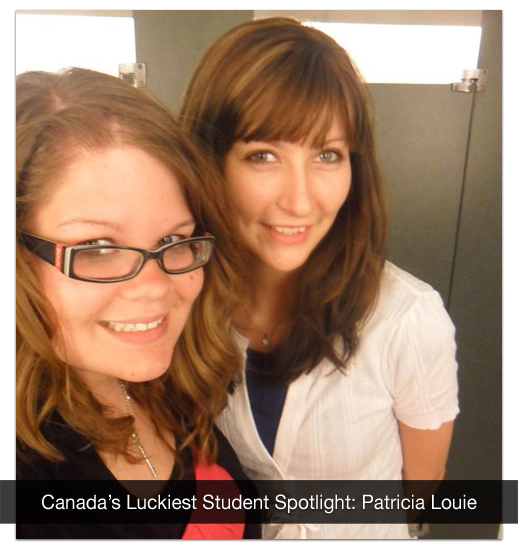 We're going nationwide with the blog and reaching out to lucky students across the country! Patricia Louie, a fourth year student from the University of Saskatchewan, was one of our first registrants in her province. She has been active throughout the whole contest and I got the chance to get to know her a little bit!
SLN: Tell us a bit about yourself
PL: I'm Patricia and I live in Saskatoon. I go to the University of Saskatchewan, it's my last year doing my honours Sociology degree. I'm trying to finish it a year early!
SLN: Cool! So are you in your third year or fourth?
PL: I finished my third year this summer so I am in my fourth year right now.
SLN: What are you looking to do after this year?
PL: I was hoping to travel and then do a two year upgrade to a social work degree.
SLN: Very cool! Where are you looking to go if you travel?
PL: I want to do a cross-Canada roadtrip, and I also want to do some travelling to Europe.
SLN: How has your experience been so far at U of S?
PL: It's been great! I really like it here. I lived in Burlington, Ontario for seven years before moving to Saskatchewan so it's kind of a big difference.
SLN: How did you hear about Canada's Luckiest Student?
PL: I think I heard about it on Student Awards, but it could have been just me Googling.
SLN: What is your favourite prize so far that we have added to the contest?
PL: I really like the idea of the Eurotrip!
SLN: That makes sense, haha! Where would your favourite place be?
PL: I've always wanted to go to England.
SLN: What other cool things would you like to see in the contest?
PL: I don't know, it's pretty well rounded so far. But contest-wise I think I might try to do a province/territory-specific mini contest, since Ontario seems to get all of the good stuff.
SLN: That's definitely in the plans, trying to give more opportunities for other people to get involved in those smaller contests! Who is someone that you would love to see in concert?
PL: Ideally, My Chemical Romance. They're my go-to. Not too many people come to Saskatchewan though.
SLN: If you were to win Canada's Luckiest Student, what could that mean to you?
PL: Well, since I'm graduating a year early, I have a lot of student loans, so that would pay off pretty much all of it. The travelling sounds really fun. It would let me experience the world, or Canada, before I have to go back to school again.
SLN: Anything else you'd like to share your thoughts on?
PL: I don't know, that's kind of a broad question, haha..I think the contest is a great idea!
SLN: Thanks so much for chatting with me Patricia, take care!
—————————————————
Check back soon for another student spotlight interview!
If you know a Canadian student who deserves some spotlight shined on them, or would like some more information on Canada's Luckiest Student, please contact me at chris.baxter@studentlifenetwork.com.