Posted on
November 14, 2012
by
Chris Baxter
and currently
no comments yet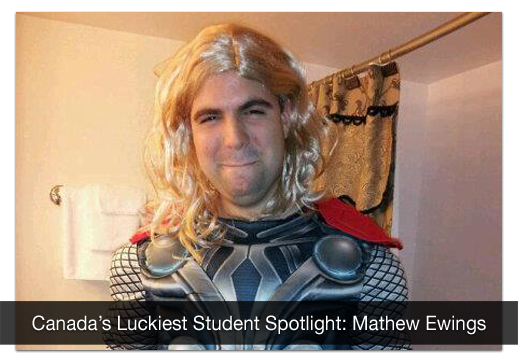 We got in touch with Mathew Ewings from Niagara College, who won one of five prize packages from our friends at Awake Chocolate. The prize included 48 caffeinated chocolate bars and some other Awake swag.
SLN: How did you hear about this flash contest?
ME: I saw a posting for the Awake contest on the Student Life Network Facebook and Twitter feeds.
SLN: What was your reason for signing up?
ME: I've loved all the small bonus contests that Student Life Network has been running in addition to their main draw. The chocolate was a clever, original idea and I was interested in trying it out. It's a small domestic business, which definitely interests me.
SLN: How was the chocolate? Did you give some to friends or keep it all for yourself?
ME: I shared the chocolate with my friends, family and fellow students. It was very good, and gave me quite the buzz.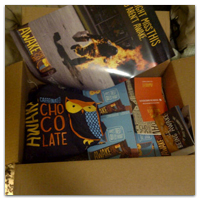 SLN: Well we're glad you enjoyed it! Now onto the general contest, what would winning Canada's Luckiest Student mean for you? What would it allow you to do?
ME: Winning Canada's Luckiest Student would change my life. It would allow me to pay down my debts and tuition fees and allow me to live a little more comfortably while I finish school. Sharing it with friends is just another great perk!
SLN: What other things would you like to see in the CLS contest?
ME: Continuing with cash prizes and tech giveaways would be great. The iPhone giveaway was a great idea. I think game systems, televisions, and any other entertainment technology would make great prizes.
SLN: That's the plan! Thanks again Mathew and good luck with the rest of the contest.
—————————————————
Check back soon for another student spotlight interview!
If you know a Canadian student who deserves some spotlight shined on them, or would like some more information on Canada's Luckiest Student, please contact me at chris.baxter@studentlifenetwork.com.