Forget Your Degree & Resume: Here's How To Actually Stand Out To Employers
It's called a personal brand.
For some reason, many of us don't like to talk about ourselves or boast about how awesome we are.
Which is understandable if you're playing a hockey game or going on a first date, but when it comes to landing a job and creating a personal brand, you can't play by those rules.
"Why do I need a personal brand?"
If an employer is looking at a pile of applicants and all you have is a Plain Jane resume and cover letter, what's making you stand out?
Simply graduating from college or university isn't going to be enough
Personal branding is the practice of marketing yourself, on and offline. It's showcasing your experience or career as if you were a brand. Because simply graduating from college or university isn't going to be enough. Your brand will be what sets you apart, gives people an idea of who you are, and what makes you special.
"I don't believe you."
Hamza Khan, Co-Founder of Splash Effect (a Toronto-based marketing agency) explains that a job that might've had only 50 applicants ten years ago, can now have over 500.
"Your need to distinguish yourself from the crowd is not a 'nice-to-have' aspect of your application—it's essential," Hamza says. "The onus is now on students to identify and develop their unique selling points and communicate them actively."
He personally (nine times out of ten) wouldn't hire someone who doesn't have an online presence
Hamza said that he personally (nine times out of ten) wouldn't hire someone who doesn't have an online presence. "In my line of work, I want to see a demonstration of a candidate's ability to do the work that I'm hiring them to do BEFORE the interview stage," he shared. "So unless you've got a portfolio of work, it's a waste of time for me to call you in for an interview solely based on academic credentials."
"Ok, I get it now. So, how can I build my personal brand?"
1) Develop your brand's image
For some people a brand image means getting a logo designed, but it can be as simple as choosing particular colours, fonts, and photos that will be carried over on all your channels. If you aren't sure what you want this to look like, start looking at other peoples' to give you an idea of what you like and don't like. For reference, here's what Hamza's logo looks like:

2) Revamp your online presence
Social Media
Social media is often used to connect with your friends and your favourite celebs or brands, but is often forgotten about as a tool to actually be used professionally. Take Hamza as an example.
For any accounts that you aim to be professional, change your profile photos, header/cover photo and profile description to be in line with the rest of your brand, and direct people to somewhere they can gain more information, like your personal website or LinkedIn profile. There should be a consistency across all your professional channels which is in line with your offline branding too.
Once these are built out, follow people and companies you admire in your industry, interact with them, share articles that you read that you find interesting surrounding your industry, and start developing yourself as a thought leader within your sector. "These people in your network are sharing ideas, perspectives and opportunities and these networks will quickly mature from the level playing field of undergrad students to tomorrow's decision-makers, artists, creators, disruptors, etc.," Hamza explains.
Website
Building a website isn't a necessary component to building your personal brand, however you may find it helpful. Mine serves as a place to showcase my experience, as well as holds my online portfolio with samples of my work. This way, I can use it as a complement to my resume when I apply for jobs. The site alone has attracted me a lot of freelance job opportunities and projects. Oh, and check out Hamza's website for more inspiration: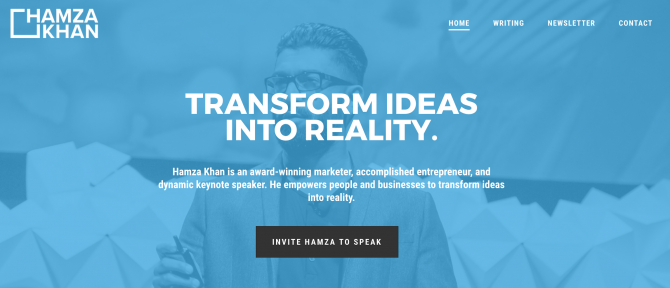 Blog
Just like a website, a blog isn't mandatory. However, it can be a great tool to help build your reputation. Having a blog that you consistently write on can not only showcase that you are knowledgeable about your industry, but also your passion for your industry. Again, here's Hamza's blog, as an example. Yes, publishing on Medium as opposed to having your own domain is just fine.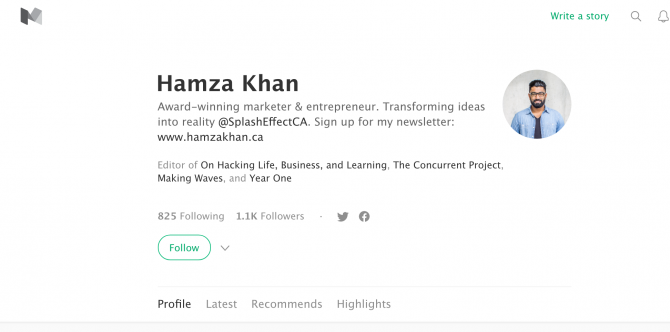 Tip: If you aim to have your blog be a component of your brand, then you need to ensure you have the ability to be consistent with posting regularly.
3) Build your offline presence
Although there is a constant push to get everything online, it's important to also focus on your offline presence and image. Redesign and update your resume, cover letter and business cards to match the rest of your brand.
It's also important to remember that your brand isn't only about the design of all your physical materials like your resume, it's also about the story you want to tell across all your channels. Who are you? What are your aspirations? What are you passionate about?
Tip: Volunteering, taking a course or certification, starting a side project, etc. can all add to your overall brand image too!
"What should I keep in mind when branding myself?"
Hamza's biggest piece of advice (and mine too) is simple: start. "Stop researching, stop tinkering and just get online and do it." However, although starting is the biggest step in building your brand, there are some things you should keep in mind.
Consistency
Marketing needs consistency in order to be successful. When someone looks at your LinkedIn account, your resume, or your business card, all things should be in line and connect with one another. This will leave a stronger, more professional impression.
Professionalism 
Professionalism is key to building a successful personal brand. If portraying a professional image means going back on all the tweets you've ever sent and deleting the inappropriate ones, then so be it, it'll be worth it in the long run. It's important to remember that you don't need to completely delete all evidence of you having a life outside of your industry and career path, but you should clean stuff up that you may not want an employer to see (think: puking in a toilet after a night of drinking, or tweets using profanity).
Commitment
It's a common misconception that you only really need to focus on branding yourself when you are job hunting and trying to make a good impression. This is far from the truth. Your personal brand should be carried with you throughout your entire career, job hunting or not. And, hey, you never know when an opportunity can get thrown your way, even when you're not looking.
Linking both your online and offline presence together with a professional brand image can put you on the right path to begin to build a recognizable reputation. No matter what field you are in, start focusing your time and efforts into building a reputation for yourself that showcases just how awesome you are. Hey, you never know what sort of opportunities it can bring you.
*Opinions expressed are those of the author, and not necessarily those of Student Life Network or their partners.