How to Make Your Student New Year's Resolutions Like a Pro
We're old enough to admit that making drastic, life-changing New Year's resolutions don't work. We've failed at them enough times, so this year will be different; this year, we're going to be clever about it.
In case you're wondering who I am to be chirping ideals, I'm a success blogger. I spend a lot of time deconstructing the elements that lead us to success (on this blog). I've amassed a whole lot of helpful advice, the most pertinent of which being that small changes are the most sustainable (and therefore suitable) for New Year's resolutions. Way more than, for example, suddenly declaring a boycott on all delicious foods, or forcing a relationship with the gym come New Year's day. Here are some more realistic ways to accomplish your goals in 2016.
Improving Relationships
Don't worry about little things. Anxiety gets in the way of happiness, and being happy is muy importante 

if you want to get along with others. Read 

this list to understand which common 

worries you should cut out of your life and check out these 

anxiety-busting tricks.
Every few weeks, look through your phone contacts. Ask the people you haven't seen in a while how they are. Put this in your calendar so you don't forget.
Challenge yourself to keep a mental count of how many people you've made smile. You'll probably find yourself putting more thought into your interactions.
Kicking Off Your Career
Commit to updating your resume regularly so you're always ready.
If you have a job or internship, commit to taking on one extra responsibility every shift. Watch your success grow.
Every few weeks, invite someone you look up to for coffee and ask them about their story. As I learned, it's the key to building a network. If this sounds like too much, read this guide on overcoming the anxiety.
Getting Active
Do three push-ups after your bathroom trip. This TED speaker proves how powerful the little things are in this talk.
Take a new class at your gym every month, and stick to it at least once a week for a month. Think of it as an adventure and you'll forget you're even exercising—which is a major theme in this TED Talk on how to live to be 100.
Do the seven minute workout right after waking up. It's easier to commit to than an hour at the gym.
Eating Right
If you don't already, start ordering your favourite drink half-sweet. This option is easily available at Starbucks, Chatime, and a bunch of other awesome establishments. If you're at Tim Horton's, ask for some milk in your hot chocolate to dilute it.
Pledge to wait fifteen minutes before walking to the pantry to satisfy a craving. Studies show that food cravings disappear after a little while, so fifteen minutes may be all you need to get over it.
From now on, trade one piece of junk food in your grocery cart for a fruit or vegetable. Just do it.
Acing Your Classes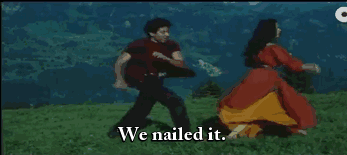 After a class, mentally recap what you've learned. If you (honestly) think you could explain it all to a friend who missed class that day, you're solid. If not, you now know what needs working on.
Pledge to visit one professor's office hours every week (examples here and here). You'll not only have an excuse to ask about course content, you'll also get to know the person who gives you grades. More often than not, that person is awesome.
When possible, write lecture notes by hand and follow this rockin' note-taking guide.
Got tips, SLNers? You know what to do. Hit the comments below and share away.
*Opinions expressed are those of the author, and not necessarily those of Student Life Network or their partners.